Search Engine Optimization in Kenya
In the digital era, most clients only get to know the business online rather than from other platforms. As a local business owner in Kenya, you must ensure that your agency appears at the top of their screen when clients seek your services.
Google My Business listing helps your business to achieve it. It is a free feature offered by Google to help you increase agency visibility by outputting relevant information in search engines around your location.
Google My Business is a free business listing feature that lets you upload your business's photos, location, services/products, and other relevant information. Worth noting that to create an account, one must have a physical location and provide the services in person.
E.g., web designers in Kenya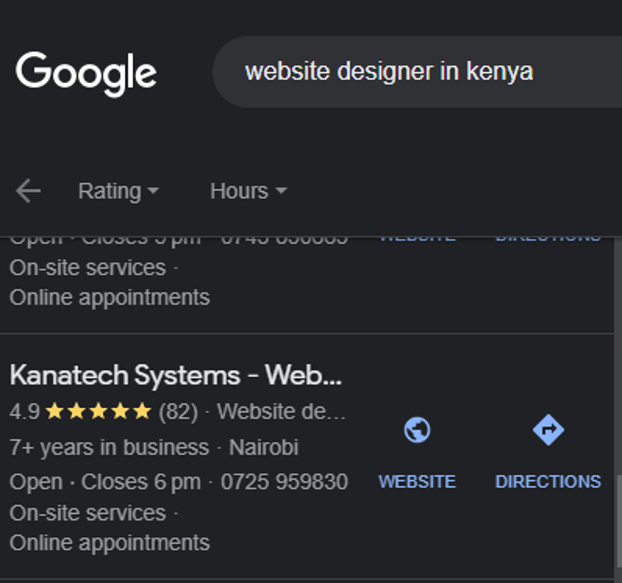 Advantages that come with Google My Business to businesses of all sizes include:
It gives you a competitive advantage in managing your online presence.
Attract customers searching for your business on Google Search and Maps.
You can share photos of your products or services and access and edit your business information.
Respond to reviews. Over time, this will give your business better visibility and engagement.
Google My Business (GMB) is free, and there is no need not to take advantage of everything it offers for building your business. The only condition is that your business must have a physical location.
Importance of GMB in Kenya
When clients search for products and service your agency offers using the keywords Google's local three-pack, your business will be there and not on the organic results.
A proper Google My Business SEO checklist can significantly improve your business's search ranking and overall visibility.
By creating a Google My Business profile, you have a better chance of making the top 3 local results, Google Maps, and local finder, which will, in turn, give your business more exposure and leads.
Once you create a profile with GMB (google my business), you can respond quickly to the comments and questions from clients about your product or services.
We also know that customers are willing to work with a business they can quickly contact.
According to Google, 28% of the searches result in business; this implies that having an account on Google My Business helps increase your website's traffic.
Naturally, clients searching for products or services you offer will click on your website to learn about you. This increases traffic volume and sales made.
With an up-to-date Google My Business profile, you'll be able to attract and engage a broader audience, a feat that would only be achievable with running ads.
This helps your business reach a broader market.
As a result of the reviews, your business' appeal to prospective customers is positively impacted.
From the example below, a 4.9-star review depicts that Kanatech systems are excellent at what it does, and as such, people are more likely to engage with the agency.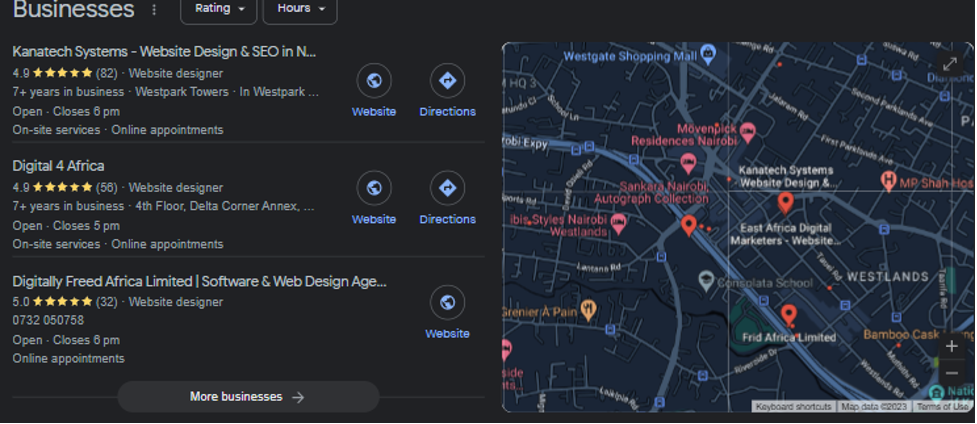 How to Create a Google My Business Account in Kenya?
Enter Google My Business and Create Your Account
Claim Your Business
Add Your Business Name
Choose a Business Category
Add Your Business Location
Write a Google My Business Description
Fill in Your Business Contact Details
Once done, you will have a Google My Business profile.
After creating a follow-up should be done. Once you verify your account, you can check out analytics, reviews, and relevant insights concerning your business.
How Does Google Determine Local Ranking?
Google considers these three factors:
Relevance
You feed Google as much information as possible, meaning more keywords will be in user searches. It helps increase the chances of your business appearing at the top of search results in the country.
Distance
Distance, in this case, refers to how close your business's location is to the area of your clients.
Prominence
Once Google can determine your local ranking by checking out how well-known your business is and whether it has a good reputation, the output on the user screen is easier to generate.
Google typically considers offline factors. Also, it goes through off-site links and articles related to your business.
Optimizing Your Google My Business Account for SEO
Ensure NAP (name, address, phone number) Consistency Across the Web
These are the most important for your business. Ensuring the information is accurate while being similar to other libraries about your business.
When the numbers, for example, are not the same across the different platforms, Google My Business may penalize your business. Therefore, it is a must to ensure all the NAP across the pages are the same on social media and GMB.
Picking the Relevant Categories
Google uses this feature to determine whether to display your information (your business website product/service) in an organic search.
For example (in case your business is located in Nairobi), Choosing your relevant service in the category section in the Google My Business SEO means that your website will always be providing your business will appear on the top of the search engine of the users in Nairobi who are looking for your services.
Take Advantage of Posts on Google
You may need to become more familiar with this, but Google My Business allows you to create an interactive post that will appear in the search results. These posts on your website include:
√Articles
√Blog posts
√Events (promotions, courses, etc.)
Through creating these high-quality posts, your business engages more with the clients leading to increased traffic for your business.
Increase your Customer Reviews
After setting up Google My Business, you must focus on your market. Through reviews, your profile ranking and Google increase your points in SEO.
For example, in Nairobi, the following are practices you can try:
√ Create a review strategy. Allowing them to review before leaving your website.
√ Ensure your reviews are legitimate. Some of your competitors might decide the unfair way of competing by checking your business.
√ Aim for quality over quantity. The inspections should have reasons for future clients to build trust.
√ Respond to your thoughts. This assures those visiting your website that their challenges can be addressed faster.
Always Make Sure Your Profile Information Is Correct and Remains.
These include outdated reviews, working hours or emails that are no longer working, or even social media pages that do not exist.
Opening and closing hours of your business. This can be extremely important, especially if your business listing says that you work at certain hours, but when potential customers arrive, they see you're closed. This reduces the credibility of your business, and the sales may suffer since they will decrease.
Fill out your profile completely.
Fill out Your Profile Completely even if Google My Business says they are optional. In the competition world, what determines your rank is what your business does compare to your competitors. A complete profile with every detail provides a baseline for reviews and answering questions.
Filling all the provided boxes about your products and services fully will tell potential consumers what you offer and keep them on your profile longer, making Google see your profile as more important than your competitors.
Always verify your business.
This helps Google know that your local business is legitimate, and they will officially publish your new profile.
In the case of a website business in Nairobi, once you verify the company, Google My Business will publish your business for local searches (people around Nairobi and those in Nairobi).
Include Semi-Professional Pictures.
Your company Pictures show Google that this is a legitimate business.
The users can see your business even without interacting physically with it. By taking pictures, the higher the quality, the better your agency (both internal and external), and any little aspect can help boost rankings on a Google My Business listing.
Pictures of your team while handling a task helps build confidence in the clients that there are other people behind assisting in the delivery of the quality product/service. Also, it assures your clients that they will be served once they visit you.